Issue 35 of the UK's only fake-fur adorned rock 'n' roll read Bubblegum Slut zine is out now and includes a 4 page tribute to Sabel Starr, illustrated by some of Theresa Kereakes' fabulous photography capturing the 70s scene in full swing (see http://kereakes.blogspot.com/). Also in this issue, another 16-track free sampler CD and 88 pages of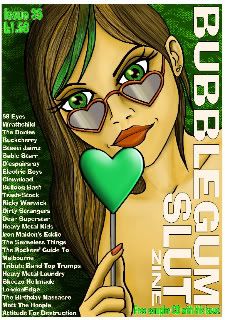 Interviews:
Buckcherry, 69 Eyes, The Electric Boys, Wrathchild, Ricky Warwick, Steevi Jaimz, The Birthday Massacre, Heavy Metal Kids, The Dirty Strangers, D'espairsRay, The Donies (formerly Snake Of Eden), Dear Superstar, Attitude For Destruction - movie producer David Sterling, Farewell City

Features:
The Rockers' Guide To... Melbourne - featuring Long Gone Loser magazine, Lance Rock, The Swedish Magazines, The Mercy Kills, Vultures Of Venus & Devil Rock Four
Songs From A Wasted Youth - The Senseless Things
The Backline - Making A Monster : Prop & stage design company 3D Creations on bringing Iron Maiden's Eddie to life
Tribute Band Top Trumps / Clownload - some of the most original tribute acts around, and the faux Download festival dedicated to them!
Mott The Hoople - all about the two biographies reissued to co-incide with Mott's recent reunion shows
Fashion - this issue, France's Skeezo Hellmade, Canada's Heavy Metal Laundry, Groupie Tease, and an utterly idiotic quiz about rockstar footwear...
Festival Reviews - from the Bulldog Bash, Hevy and Trash-Stock

All that, lots of original artwork illustrating the features, and the trademark fluffy heart on the front!

This issue's sampler CD includes tracks from ; Staci T. Rat, F.I.G.M.O, Selfish, New York Alcoholic Anxiety Attack, Junkie Dildoz, The Shadowcops, The Afteraffects, Acute Riot, Little John Rocket, Gatecrashers, The Band Of The Eye, The Plastic Pals, Hekz, The Shambolic, Jezebel & The Black Mollys




Ordering your copy

To order using PayPal use the Storefront in the 'about me' section of our MySpace page. Inclusive of UK postage copies cost £2.40, or £3.10 to European destinations and £4.00 worldwide. If you would like to order more than one copy outside of the UK please get in touch for reducing shipping rates.

Stockists and details of other means of ordering can be found in the same place at the MySpace.